Cohousing
Welcome to The Mount Camphill Cohousing Community.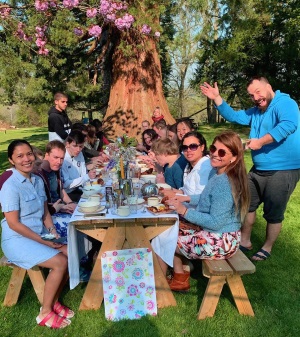 Cohousing provides an innovative model of adult supported living within a Camphill Community setting. Our houses are located on and off campus. Cohousing provides a sense of community, social inclusion and support, a culture of sustainable development, higher density living, efficient use of land and resources, reduction in social isolation and physical and emotional security. We support active independence for life, inclusion in all areas of decision-making and value finding people who want to share their lives with others. We offer social care support on request. We are currently at full capacity and admissions to Cohousing is suspended until further notice.
Our vision is to create a community life which:
Empowers each individual to grow and learn through positive mutual relationships.
Enables each person to develop a wide range of experience and skills for life.
Encourages each person to care for the land and the environment.
Maintains and develops a therapeutic and healing impulse.
Fosters relationships and integration with the wider community.
What is Cohousing?
A supported living model that offers Individual tenancy agreements which provide your own private space with access to shared common areas.
Opportunities for self-development through learning, experiencing, creating and achieving.
Opportunities to build experience and skills in a range of work activities and social enterprises.
Mentoring and support towards understanding your own potential and goals.
Tailored support that is respectful, dignified, personal and warmhearted.
Support to engage in a wide range of opportunities for integration in the vibrant local community.
Opportunities to develop spiritual ideals and creative expression through enjoying a rich cultural life.
Opportunities to establish friendships and companionship within an inclusive social circle.
Empowerment to participate in decision making and organising all aspects of the cohousing community, including our Cohousing Management Group.
Cohousing admissions is currently closed.
We will not be accepting any further applications to Cohousing at this time. Thank you.
"We are constantly in awe of your thoroughness, diplomacy and optimism... Really appreciate all you are all doing. ... Thank you so much."